Website Access Blocked Due to Akamai Settings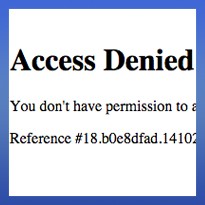 Is there a website you frequent that is suddenly not allowing you access anymore? It may be due to policies set up through Akamai Technologies.
Akamai works with some of the most popular websites on the internet, handling their web traffic to increase performance and protect against potential malicious actions. Each website connected to Akamai sets its own preferences and levels of protection.
Have you recieved an error message that looks like this?
Recently, some of these settings have been causing the blocking of legitimate users from accessing certain websites. Some of the most common websites that we have seen exhibiting this include Staples, USPS, and eBay.
According to Akamai's website, with regard to what rules and protections they offer:
"Some common reasons could include:
Explicit IP blocking / blacklisting
Location-based blacklisting
Rule-based blocking (i.e. web application firewall protections)
Reputation-based blocking
HTTP request rate controls (e.g. DoS protections)
The following activities may trigger application security controls:
Web application layer attacks such as: SQL Injection, Cross-Site Scripting, Local File Inclusion, Remote Command Execution, Remote File Inclusion, etc.
Volumetric attacks or similar high rate HTTP traffic
Web contents scraping, data mining, web content indexing and similar automated web activities
Web vulnerability scanning using automated tools"
Certain businesses have been denied access as of late even though they did not seemingly break any of the listed rules. In certain cases, the system is reading too many hits by one IP address. While this can include numerous people on the same internet connection, Akamai may read it as one network repeatedly trying to access a website for malicious purposes. This has been the most common example witnessed so far. There is little additional information out there at this time to identify exactly why legitimate users are being blocked.
If your business begins seeing errors like these when accessing certain websites, there are a few things that can be done. Try visiting the website on your mobile or home network as it will register differently and may allow access.
For those who want more detailed information as to why they were blocked, they can contact Akamai support directly by emailing . To do so, make sure you copy the reference number from the error message, otherwise they may be unable to assist you.
Unfortunately, as the level of protection is set by each customer directly, Akamai is unable to regrant you permission to these websites. In order to request access, you must contact the site owner directly. Their IT support staff are the only people who have the authority to adjust the settings to regrant you access.
Comment for this post has been locked by admin.
Comments
No comments made yet. Be the first to submit a comment
By accepting you will be accessing a service provided by a third-party external to https://www.maketechwork.com/