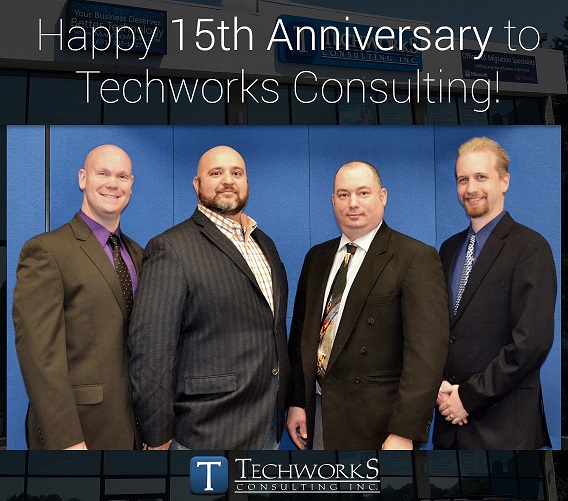 BOHEMIA 8/3/17 – Techworks Consulting, Inc. celebrates their 15th anniversary today. The company originated in Bohemia, NY and has since expanded to a second location in Albany, NY. The company went through significant changes and growth over the years. Today, they look back on where it all began.
Techworks was founded by Christopher Coluccio and Keith Newell in 2002. They became friends during their time at Dowling College. After college, they were involved in separate technological endeavors before coming together under the same idea.
"We dreamed of creating a company that offers exceptional IT services and provides a unique product. We wanted to be able to deliver enterprise-level technologies to smaller organizations at a price they could afford. Our original slogan was Small Business – Big Technology," said Coluccio.
Techworks started as a small operation repairing computers for other local small businesses. During their second year, they hired their first employee: an intern, Thomas Lohr. Lohr stayed with the company and helped with its growth, building up to his current role of Vice President of Operations.
The company has continued to grow over the years and adapt their services to the ever-changing technology needs of their clients. Techworks was an early pioneer of the Managed Services model and evolved to offer security, advisory services, infrastructure, and managed services. Techworks began a period of significant growth five years ago.
"From our humble beginnings servicing a few local businesses, we have grown to be able to support multinational organizations. The only way to maintain this was to keep growing, keep up with the newest technology, and ensure we were ready for anything that came our way," said Newell.
Just in the last two years, the company has successfully doubled in size. This year, the company expanded to a second office, having their Grand Opening of their Albany, NY location this past June.
When asked about the future of Techworks, Coluccio had this to say, "Our goal is to become the premier IT service provider in New York, the gold standard for what people are looking for when it comes to providing IT services. We are not simply looking for flashy products but solutions that have a true business benefit. While technology will continue to evolve, and quickly at that, our commitment to our customers will never falter. We will continue to build upon our personal touch and deliver the Techworks difference to all those who come our way."
To learn more about Techworks Consulting, Inc. and the services they offer, call (631) 285-1527 or e-mail them at info@maketechwork.com.