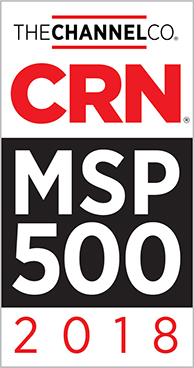 New York, March. 1, 2018 – Techworks Consulting, Inc. announced today that CRN®, a brand of The Channel Company, has named Techworks Consulting to its 2018 Managed Service Provider (MSP) 500 list in the Pioneer 250 category. This annual list recognizes North American solution providers with cutting-edge approaches to delivering managed services. Their offerings help companies navigate the complex and ever-changing landscape of IT, improve operational efficiencies, and maximize their return on IT investments.
In today's fast-paced business environments, MSPs play an important role in helping companies leverage new technologies without straining their budgets or losing focus on their core business. CRN's MSP 500 list shines a light on the most forward-thinking and innovative of these key organizations.
The list is divided into three categories: the MSP Pioneer 250, recognizing companies with business models weighted toward managed services and largely focused on the SMB market; the MSP Elite 150, recognizing large, data center-focused MSPs with a strong mix of on-premises and off-premises services; and the Managed Security 100, recognizing MSPs focused primarily on off-premise, cloud-based security services.
Techworks Consulting was chosen for the MSP Pioneer 250 accreditation due to their commitment to SMBs. Their goal is to provide solutions that allow SMBs to function at the highest caliber and have a competitive edge against competitors as well as larger businesses.
"Managed service providers have become integral to the success of businesses everywhere, both large and small," said Bob Skelley, CEO of The Channel Company. "Capable MSPs enable companies to take their cloud computing to the next level, streamline spending, effectively allocate limited resources and navigate the vast field of available technologies. The companies on CRN's 2018 MSP 500 list stand out for their innovative services, excellence in adapting to customers' changing needs and demonstrated ability to help businesses get the most out of their IT investments."
"We are honored to be a part of the CRN MSP 500 list." said CEO and co-founder, Christopher Coluccio. "We recognize the competitiveness of this award and the importance of staying on top of the latest technology solutions."
"Our customers rely on us to provide them the highest quality service possible. We do not take that responsibility lightly." added CFO and co-founder Keith Newell.
The MSP500 list was featured in the February 2018 issue of CRN and is available online at www.CRN.com/msp500.
Techworks Consulting, Inc. specializes in technology services tailored to reducing risk, increasing security, and meeting client needs. They are committed to providing each one of their clients with Best in Class service and support.
Techworks Consulting, Inc., your business deserves better technology.