2nd Year in a Row: Techworks Recognized on 2017 CRN Next-Gen 250 List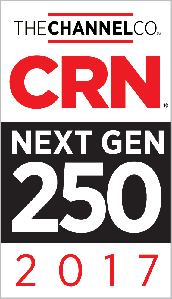 Techworks Consulting, Inc. has been named on the 2017 Next-Gen 250 list. This is their second year in a row recieving this honor. This annual list features trailblazing solution providers transforming business with emerging technologies.
Annual List Features Trailblazing Solution Providers Transforming Business with Emerging Technologies
Techworks Consulting, Inc. announced today that CRN®, a brand of The Channel Company, has named Techworks to its 2017 Next-Gen 250 list. The annual list recognizes standout IT solution providers who have successfully transformed their businesses to meet the demands of emerging technologies such as cloud computing, IoT, virtualization, mobility, business analytics and business intelligence. These solution providers, all in business for fewer than 20 years, have adapted to an evolving marketplace with a notable penchant for bringing key technologies to their clients before they become mainstream.
A strong player in the industry for 15 years now, Techworks prides itself on providing great technology to businesses both big and small. They specialize in services tailored to reducing risk, increasing security, and meeting client needs. They are committed to providing each one of their clients with Best in Class service and support.
"We are proud to receive this award for the second year in a row!" said CEO and Co-Founder, Christopher Coluccio. "We pride ourselves on always being ahead of the curve. Techworks invents in our employees, putting a strong focus on education, competency, and training. Our team is always on the lookout for the next best solutions to provide for our clients."
"This group of solution providers is leading the way when it comes to emerging technologies, bravely stepping into the uncharted territory of next-generation IT solutions ahead of their peers," said Robert Faletra, CEO of The Channel Company. "Our 2017 Next-Gen 250 list is comprised of relatively new companies as well as established ones, all sharing the common thread of successful, trailblazing solutions designed to meet an unprecedented set of customer needs. We congratulate each team on its vision and contribution to the overall advancement of the IT channel."
A sampling of the Next-Gen 250 list will be featured in the December issue of CRN. The complete list will be available online at www.crn.com/nextgen250.
2nd Year in a Row: Techworks Recognized on 2017 CRN Next-Gen 250 List